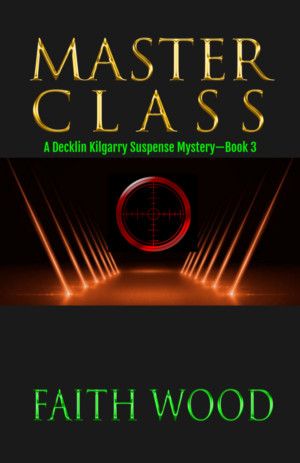 MASTERCLASS - 3rd Book in the Decklin Kilgarry Series
"Wood's Decklin Kilgarry Mystery Series rivals any great mystery writer! A must have in your library!" – Rebecca Malstrom
Donning false bravado, Decklin stepped to the side of the lecturn, descended three steps, then took his place in front of everyone. "Good morning – I'm Decklin Kilgarry."
Scanning their faces, he wondered why anyone might know his name, and the most they probably knew about him was what they read in the class description, and that wasn't much.
Still it was enough.
"Since you're in my class, I'm going to assume you're interested in crime. Solving crimes. Murder…"
When Decklin Kilgarry decided to accept an adjunct professorship at a prestigious, East Coast university, he never considered he'd be embroiled in a mystery staged to challenge the most brilliant criminal minds. Nor did he think he'd be in a murders crosshairs..
Faith Woods Master Class invites readers into the world of theatre, offering an intriguing glimpse into what is real, and what is fiction shaded with duplicitous drama.
Conflict Coach and Professional Speaker, Faith Wood is also a Hypnotist and Handwriting Analyst. Now the author of The Decklin Kilgarry Suspense Mystery Series as well as the Colbie Colleen Cozy Suspense Mystery Series, she lives with her husband in British Columbia, Canada.